WELCOME TO FACULTY OF INFORMATION TECHNOLOGY & MULTIMEDIA

DIPLOMA IN DIGITAL ANIMATION
1) Program Details
Diploma in Digital Animation program is one of five programs offered by the Faculty of Information Technology and Multimedia, which focuses on the field of animation. This program provides exposure to animated storytelling technique, principles of animation, storyboard animation character design, lighting techniques and textures, character rigging and animation production.
At the end of the course, students will learn theories and techniques in the production of 2D and 3D animation.

2) Entry Requirement
Pass Sijil Pelajaran Malaysia (SPM) with at least 3 credits or equivalent
OR
Possess certified Creative Multimedia Certificate (Sijil Multimedia Kreatif) or equivalent OR
Possess certified Sijil Vokasional dan Teknikal or related or equivalent to 1 year working experience or relevant or 1 semester bridging program
OR
Possess Sijil Kemahiran Malaysia (SKM) Level 3 and Sijil Pelajaran Malaysia (SPM) with at least 1 credit.
3) Subjects/Program Structure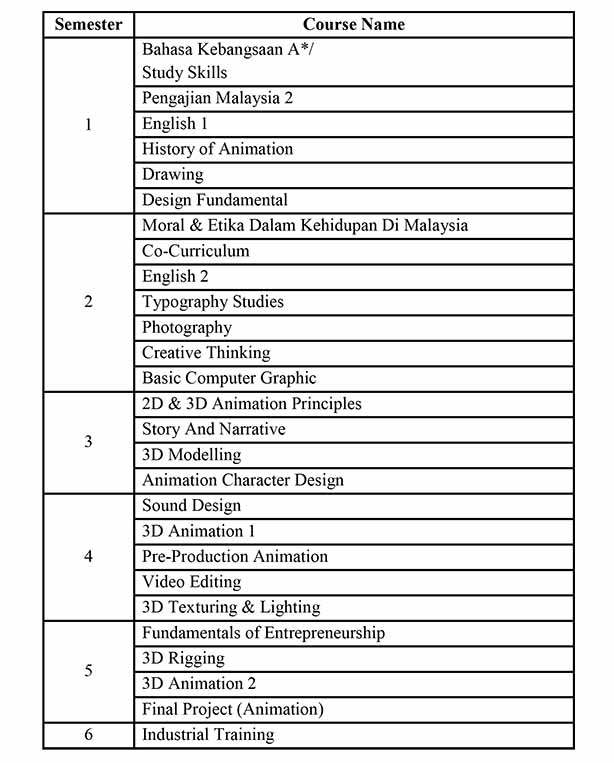 4) Industry Exposure
Exposed to well recognize competitions such as Animation Competition, Modelling Competition, 2D Animation Character Design, Short Animation Movie and etc.
Field trips to well-known government organizations and companies including MediaPrima, Rumah Kartun dan Komik Malaysia, Digital Durian, Les'Copaque and etc.
5) Pathway To Further Study
During practical classes, students will learn how to draw the animation characters and make animations digitally using Wacom in animation studio. Students are able to enhance their skills using the software such as Autodesk Maya, Blender, Adobe Flash, Adobe Photoshop, Adobe Illustrator, Adobe After Effect, Adobe Premiere Pro, Adobe Audition and Toon Boom Harmony. Thus, they can further their study in Degree in Animation/ Motion Graphics and Visual Effects/ Animation and Visual Effects/ 3D Animation Design/ Creative Multimedia and other suited programmes offer from other IPTS.
6) Career Prospect
Script writer
2D Animator
3D Animator
3D Modeler
Storyboard Artist
Lighting & Rendering Artist
Compositor
Layout Artist
FX Artist
Production Designer
2D Artist
3D Artist
Video Editor
Sound Designer
Videographer
DIPLOMA IN GRAPHIC DESIGN
DIPLOMA IN INTERACTIVE MEDIA
DIPLOMA IN COMPUTER SCIENCE (OPEN SOURCE COMPUTING)
FITM
CREATE FOR THE FUTURE