WELCOME TO FACULTY OF INFORMATION TECHNOLOGY & MULTIMEDIA

DIPLOMA IN DIGITAL ANIMATION
Syarat
MQA/PA 3798 JPT/BPP(K) 1000-6000/M419  JLD.2 (29) N/213/4/0171
Syarat Kemasukan:
LULUS SPM atau SPMV dengan 3 KREDIT :
Prospek Kerja:
Penganimasi 2D & 3D 
Pereka Karekter Model 
Artis Papan Cerita
Kartunis
Pengarah Animasi
Penyunting Video dan Audio
Pereka Grafik
Guru atau Pensyarah
Programme Learning Outcome (PLO)
Programme learning outcomes are the specific skills and knowledge that our students are expected to have obtained at the time of their graduation from the programme. Students graduating from Digital Animation Programme will be prepared and expected to exercise their skills and abilities as listed below:
PLO1:
Graduates have the ability to adapt basic knowledge of fundamental concepts in animation and digital technology and formulate their knowledge and understanding in an innovative and creative way to the related industry.
PLO2:
Graduates have the ability to combine art skills with creativity to produce an innovative portfolio in digital animation.
PLO3:
Graduates have the ability to serve social, cultural, global and ethical expectations while incorporating animation technology for creative content.
PLO4:
Graduates have the ability to act as an individual as well as a team player and are able to impress the potential employers through impressive animation projects.
PLO5:
Graduates will perform with an attitude of positive leadership and be able to communicate effectively with peers, clients, superior and society at large, utilizing animation knowledge.
PLO6:
Graduates have the ability to design the innovative and innovative character and   environment that challenge conventional thinking.
PLO7:
Graduates are able to practice lifelong-learning animation principles and skills to effectively respond and adapt to emerging trends in the creative content industry         
PLO8: 
Graduates have the ability to show awareness with an understanding of management, business practices and entrepreneurial skills related to the animation industry requirements.
Programme Educational Objectives (PEO)
PO1:  Creativity and Technical Knowledge
To produce graduates who are equipped with the fundamental concepts in digital animation and have a strong understanding of current technology within the creative industry
PO2:  Specialization
To produce graduates who have skills in digital animation with proficiency in design, creativity and arts in order to formulate and solve media interactive problems
PO3:  Design Skills
To produce graduates who will be trained in designing the innovative and creative animation character and environment that challenge conventional thinking
PO4:  Professional Skills
To produce graduates who have a well-rounded knowledge in digital animation, contemporary issues and includes communication and teamwork skills as well as appreciation for ethical behavior
PO5:  Life Long Learning
To produce graduates who will be prepared to apply skills and principles of animation in academic and career development in creative industry
Animasi Digital adalah kursus tiga  tahun yang dibahagikan kepada enam semester. Program ini akan membolehkan anda mempelajari teknik-teknik dalam penghasilan animasi digital 2D dan 3D. Anda akan dibimbing oleh tenaga pengajar dalam penghasilan karakter-karakter animasi dan latarbelakang yang sesuai bagi mendapatkan impak animasi yang berkesan dengan tema dan konsep cerita.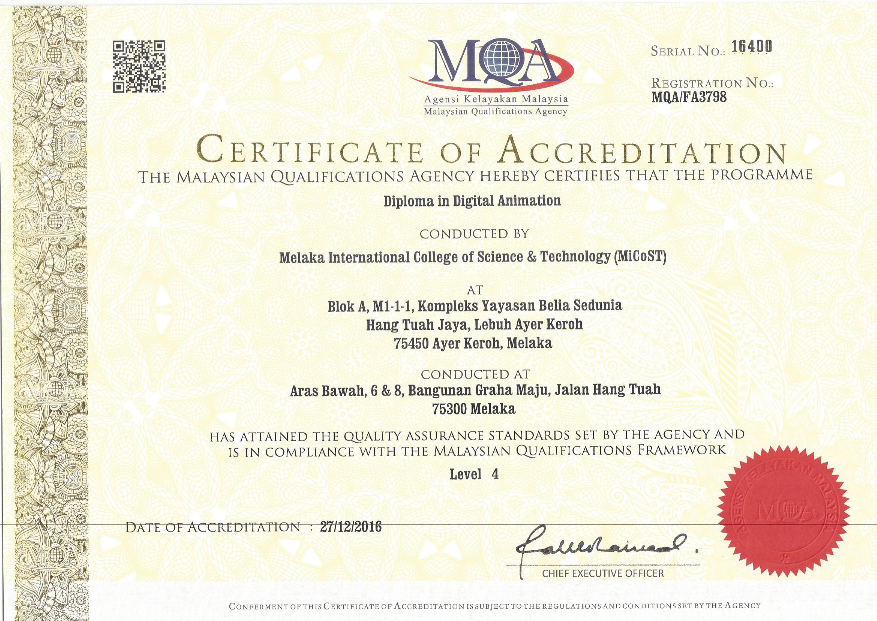 DIPLOMA IN GRAPHIC DESIGN
DIPLOMA IN INTERACTIVE MEDIA
DIPLOMA IN COMPUTER SCIENCE (OPEN SOURCE COMPUTING)
FITM
CREATE FOR THE FUTURE